Burberry
Burberry
In assessing my spring wardrobe situation, I put a lot of importance on the trench. The classic coat is a key element to my closet -- my go-to spring (and early fall) piece. I love it with skinny jeans, leggings and over a cocktail dress. But perhaps the the thing j'adore most about the trench is its ability to make me feel chic in an instant (no matter what I have on under) -- call it the Catherine Deneuve effect.
Catherine Deneuve in Umbrellas of Cherbourg (1964)
I've discovered that the trench doesn't have to be a pricey item. A Burberry would be nice, sure, but there are many more affordable options. I've worn my $100 Uniqlo trench to death -- and always get compliments on it. It has a removable fleece lining that makes it perfect for chillier days. I also have a short Gap trench that is really more like a jacket and great for when I am in and out of the car all day. I have a longer trench from APC in dark olive with a military vibe that I wear when I want to mix it up a bit.
Zara
Zara
Like anything you buy, consider fit and fabric. I like trenches on the slimmer side, but with enough room that I don't look stuffed in when I layer underneath (especially in the arms). I like to wear it both open with the sash tied in the back and cinched closed in the front so, it has to work both ways. Heavy cottons are classic and you can't go wrong with standard issue khaki -- although, lately I am loving the idea of a white trench (my next purchase?), like the ones seen on the spring runways.
Yves Saint Laurent
Derek Lam
My l'affaire amour with the trench has caused me to go as far as buying a version for my baby from Jacadi. And I just spotted some adorable ones at Zara for the toddlers. Might as well start them early!
Zara
Zara
** Note, my Sarkozy spotting this weekend has got me feeling very French. They were the chicest!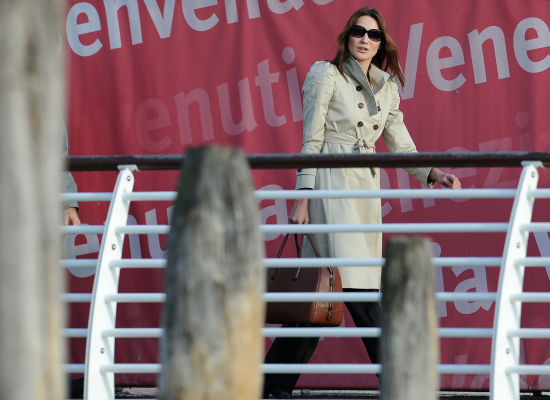 Carla Bruni-Sarkozy tres chic in a trench